LA3Z.com is up and running
---
Posted:
August 7th, 2008 under
Hamradio
,
Homepage
,
Pictures
.
If you go here, you can see the new LA3Z.com site that I helped set up. The old site has been removed. It was located at LA3Z.no.
I have also fixed most of the bugs on this site. I'll probably start blogging a bit more now, that everything is running smoothly. I'm not sure which way the blogging will take, but probably will write about more different stuff. Not just hamradio related.
Oh, just remembered, added a few more pictures to the sunset photogallery. An example can be seen here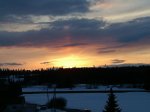 ---
Comments: No comment yet, you could be the first