Hunting some new countries on RTTY and doing some DX'ing
---
Posted:
September 28th, 2008 under
DX
,
Hamradio
.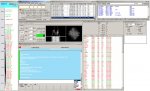 The first DX I got in the log yesterday morning, was KH7XS on 40M. This was a new state and country on 40M. I have seen him spotted several times on 40M earlier this week, but never had the chance to work him. He was quite strong, and I worked him quickly. I checked the qrz.com listing, and no wonder why he was strong. He runs a 4 element monobander on 40M!
Later that day, I worked 4 new countries on RTTY with 4K9W, HQ9R, 3V8BB and 4O3A. It's been a very long time since I did any RTTY DX'ing. It was quite fun as soon as I got everything set up.
I also had a go at 30M. I worked 2 US stations, 7 JA stations, 3 UA9/0 and a few europeans. Signals were mostly good with some qsb. And to top it all off, I got A25/DL7DF for a new country later in the evening.
---
Comments: No comment yet, you could be the first