Quick LoTW confirmations and some DX hunting
---
Posted:
October 5th, 2008 under
DX
,
Hamradio
,
LoTW
.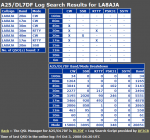 After my last post about Botswana, I managed to work A25/DL7DF on 17M RTTY and 20M SSB. That's a total of 7 QSO'es. Check the picture for the logsearch. Thank you very much to the team for a great operation. They gave me a total of 3 new band countries and 1 new mode country.
Before work on Friday, NH7O were cq'ing on 40M with a nice signal. I managed to work him quickly. He is an LoTW user, so I guess this one will be confirmed quite easy. Here you can se his qth and his antennas. He runs a 2 element yagi on 40M. Later that day I worked HV0A and 9M6XRO on 20M CW. They were both a new CW country on 20M. I also heard V8 on 20M SSB with a nice signal, but couldn't break the pile-up. I didn't try for very long, since he weren't running split, and the pile-up were quite messy. Yesterday evening, S79TF were spotted on 30M. He wasn't very strong, but I gave a few calls, and he came back to me, though I'm not sure he logged me, cause I never got the confirmation because of QSB and QRN.
LoTW gave me severaI new confirmations. 4O3A gave me a new one on RTTY. He is always fast to confirm on LoTW! I also got ZL1BYZ, ZL2IFB and 7K1PTT from the DX I worked last week. Talk about fast QSL'ing.
---
Comments: No comment yet, you could be the first