LoTW updates – lots of DX with recordings
---
Posted:
November 3rd, 2008 under
DX
,
Hamradio
,
LoTW
,
Soundclips
.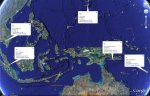 I uploaded an update to LoTW last week. With this upload, I got several new confirmations this time. YB4IR 40M SSB, 5Z4/RW1AU on 40M and 30M CW, HQ9R on 40M RTTY and ZD9ZM 30M CW, 15M RTTY and 12M CW. With ZD9ZM, I now have 191 LoTW confirmations.
On the DX front is was pretty quiet last weekend and the beginning of the week. I didn't listen anything in on CQWW SSB, but did have a quick try on VU7SJ on 30M. He was strong, but then he went qrt for dinner. I made a short recording which you can listen to below. XU7MDY was worked on 30M on Friday, and I heard him on 40M a bit later, but couldn't break the pile-up. I also had a go at VU4RG and TT8JT on 30M, but couldn't get through. On Saturday I worked P29NI on 30M CW for a new on CW (#298) and 30M (#223). KH2/AK0J had a nice signal and gave me a new one on 40M (#208). JI3CEY/6 (AS017) was cq'ing on 30M, so I gave him a quick call. HS0ZBS suddenly popped up on 30M for a new one (#224). Later in the evening, XU7MDY was worked on 40M for second band and a new one (#209). Sunday gave me three new ones on 30M. Franck FK8HC had a really nice signal on 30M, and was easily worked (#225). Check out the soundclip below. A43DLH was worked for country number #226 on 30M. And finally P29NI came on 40M (#210) with a really nice signal. But that wasn't the end of it. 9V1VV John was worked on 30M for number #227. 5N/LZ1QK was CQ'ing with not too many takers, and was worked easily for number #211 on 40M.
I thought the week started bad, but after this weekend, I can't really complain. Conditions seems to have been pretty nice on 30 M and 40M with some very strong signals. Now if only I could get some of those VU4's and VU7's in the log. I have tried a few times, but I can't seem to break the pile-up.
Here are the recordings I made last week:
---
Comments: No comment yet, you could be the first