SU9HP, Z29KM, 7P8BA and 2 new states on 30M
---
Posted:
November 24th, 2008 under
DX
,
Hamradio
.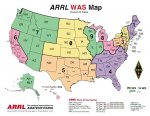 DX might have been slow earlier this week, but it surely picked up during the weekend. Not much heard from H4 and 3D2 on 30M or 40M, I was hoping to get these in the log, but signals just weren't there. I did work BA1RB on 30M on Saturday with a good signal. That was really it, so I decided to do some CQ'ing.
Since 30M is one of my favourite bands, I decided I wanted to try my luck. I started CQ'ing around 1340Z on Saturday. I was quckly answered by K1YRW in CT. Several stations followed, and I got spotted by N6QD in CA. A few minutes later, Hans SU9HP called in and gave me a new one on 30M (#231). I continued working stations, and was called by several loud stations from W6 and W7. Conditions was obviously very good and I ended up with 22 US stations in the log. I worked the following states: CT, AZ, MN, CO, CA, NJ, MO, MD, TX, OR, FL, and NH. MO was a new state on 30M (#39).
Sunday was a slow start, but I gave it a shot around 1350Z. I started cq'ing on 30M and got answered by N5ZC in TX. 12 US stations followed shortly and I worked the following states: TX, WI, ME, CO, IA, MI, NJ, AZ, IL, NH and MD. IA was a new state on 30M (#40). Hopefully I'l get the other 10 soon. 2 VE station was logged as well.
Later in the evening on Sunday, I noticed Z29KM was active on 30M. I did hear him earlier this week, but couldn't get through. Today I worked him very quickly and it was a new one on CW (#299) and on 30M (#232). A few minutes later, 7P8BA showed up much stronger than Friday, and I worked him quickly as well (#233). I must say the weekend ended quite nice.
Soundclips:
BA1RB 30M CW – Nice signal from Beijing
Z29KM 30M CW – Nice signal tonight and a new one on 30M (#232) and CW (#299)
7P8BA 30M CW – Yes, this time with a decent signal and a new one on 30M (#233)
---
Comments: No comment yet, you could be the first