H44, FW and VQ9 on 40M, A7 on 80M and lots on 160M
---
Posted:
February 3rd, 2009 under
DX
,
Hamradio
,
LoTW
,
Soundclips
.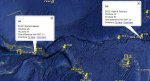 This will be a summary for the last weeks. Not much radio lately except the 160M CQWW Contest. January 13th I worked TS7C on 30M CW. January 18th I worked H44MS on 40M SSB for a new one on 40M (#224). He was quite easy to work, because he showed up above 7100KHz. Last weekend I visited LA8W to run the 160M contest from there. That resulted in 21 new ones on 160M and 1 new on 80M with A71AN. January 26th I worked VQ9JC on 40M CW (#225) and BD8AIB on 40M CW also. January 30th I worked FW5RE on 40M CW (#226). January 27th I worked VK3FY/DU8 on 40M CW.
Soundclips:
LoTW confirmations are coming in. I'm up to 206 now with OE2S as the latest new one.
---
Comments: No comment yet, you could be the first