PW0S and VK9DWX on LoTW, VK9N/G3TXF on 30M
---
Posted:
April 5th, 2009 under
DX
,
Hamradio
,
Soundclips
.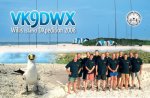 On Friday morning, I worked KH6OO on 30M while I was listening around for anything interesting to work. He had a nice signal here in Norway. Friday evening, 5X1NH was quite strong on 40M, but I just couldn't break the pile-up. I have worked him before on 30M, but it would have been a new on 40M. Suddenly all hell broke loose. VK9GMW came on again and the pile-up spread on top of 5X1NH. When it comes to Mellish Reef, VK9GMW, I can't say I had my luck with working them. They were quite good on Saturday morning on 30M, but the band were open to almost every part of the world, and it was tough to break the JA-wall. They started to increase even more in strength, but then they started to work NA only. After 5 or 10 minutes, they went to 160M. At least I managed to work VK9N/G3TXF easy. That was a new on CW and 30M (#305 CW, #246 30M). On Sunday afternoon VK9GMW was very strong on 30M, but no luck breaking the pile-up. I was chasing them for more than an hour. Hopefully I'll have more luck during the week.
I got 2 nice surprises on LoTW this weekend. I got PW0S and VK9DWX confirmed. Total is now up to 221.
Soundclips:
---
Comments: 2
Comments