Over to HF dxing again, several new bandcountries
---
Posted:
August 17th, 2009 under
DX
,
Hamradio
,
RTTY
,
Soundclips
.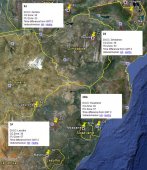 The good openings on 6M seems fewer and fewer as we approach the end of the sporadic-e season. I have noticed several days with openings to Europe, but I rarely bother to work anything. I've started listening on HF again, where several expeditions has been qrv.
On August 4th, I worked FJ/VE3EY on 20M CW as #273 on 20M. An hour later I got 7P8MM on 40M CW (#239 40M).
On the 5th, I worked 5N0OCH and FJ/VE3EY on 17M CW. FJ was #259 on 17M. A few hours later I got Z29KM on 40M CW (#240 40M).
On the 6th I worked 7P8OK on 20M CW.
On the 7th I worked 3DA0VA on 17M RTTY (#184 RTTY) and KH6MB on 20M RTTY.
On the 10th I worked 7P8OK on 20M RTTY (#185 RTTY), 3DA0EL on 20M CW and 9J2FM later in the evening on 30M (#248 30M).
On the 11th I worked KH7XS on 17M CW with a nice signal.
On the 12th I worked VC1W (NA-154) on 30M CW.
On the 13th I worked VU2PAI on 40M CW.
Soundclips:
---
Comments: No comment yet, you could be the first