The magic band opens to North-America – 8 new grids
---
Posted:
June 16th, 2010 under
6M
,
DX
,
Hamradio
.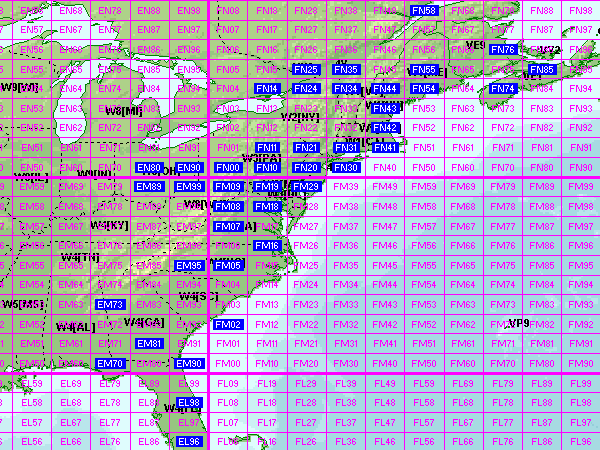 6M had been pretty quiet the last few days. There were a few openings, but nothing really interesting. That changed on Friday June 11th though. I was listening around the band for anything interesting, when K1TOL announced he was hearing the Moscow tv-transmitter. He started calling and I turned the yagi and listened. It was quiet… for a few seconds or so. Then suddenly his signal were in and it increased quickly. I worked him and tuned the band. N1BUG was in and I gave him a call. K1CP and W1JJ was also in, and I worked them both. After working those 4 stations, I went to 50080 and started calling and as soon as I finished the first call, I was answered. At times, I even had a small pile-up. I ended up staying on that frequency for nearly 3 hours. The opening resulted in 82 qsoes in 42 different grids. 8 of them were new. The map above shows the grids I worked. The longest qso was KE4WBO at 7466km. I worked 9 contacts into Canada and 73 into USA. This was my best opening to North-America since the opening I had in 2008. Hopefully more openings will come.
All the contacts are uploaded to LoTW and my logsearch.
I talked with a few of the other LA's that were active in the opening. LA8HGA worked over 70 qsoes, LA8AV worked over 50 qsoes and LA7HJA worked around 30 qsoes.
Below you see a plot of the qso'es. The map was made with Google Earth. Thanks to VE2XK for the idea.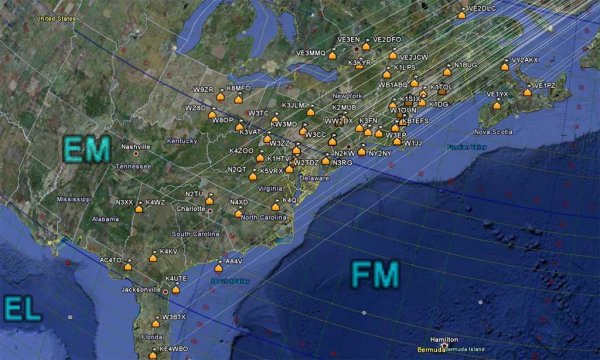 ---
Comments: 2
Comments