OX3KQ, VE8BY/b and VY0HL all in on 6M
---
Posted:
June 19th, 2010 under
6M
,
DX
,
Hamradio
,
Soundclips
.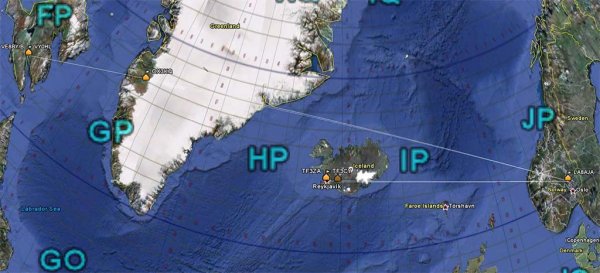 Saturday didn't produce many qsoes. I was listening around on 6M, but not much interesting. I did get EA8CBN in IL08 for a new grid.
Sunday had plenty of signals on 6M. The stuff I could hear however, was nothing new, except UY5HF/P in KN55. I couldn't get through to him. EA6/M0DLL in JN20 was worked for a new grid. In the evening I was ready for bed when I noticed OX3KQ being spotted. I turned the yagi and started listening. Sure thing, I could hear him with a decent signal. I tuned around the band to see if I could hear something else. I got a bit excited when I could copy the VE8BY beacon. I've heard this beacon only a few times on 6M. Not long ago I noticed VY0HL was qrv from FP53 and I was hoping he would show. I called a few cq's on CW, but no reply. I got a tip from some guys that VY0HL usually are on 50125. I started calling him, and soon started hearing something on the frequency. It turned out to be Larry and he was working MM0AMW. Larry came up a bit in strength and I managed to work him for a new grid, field and zone. I also had one hop to Iceland. I copied the TF1SIX beacon and worked TF3CY and TF3ZA. Not long after, OX3KQ had a very strong signal and I gave him a call. Sorry for the dupe Jesper.
Soundclips:
---
Comments: No comment yet, you could be the first