#295 on LoTW with HC6EP and 13 T32C slots
---
Posted:
October 23rd, 2011 under
DX
,
Hamradio
,
LoTW
.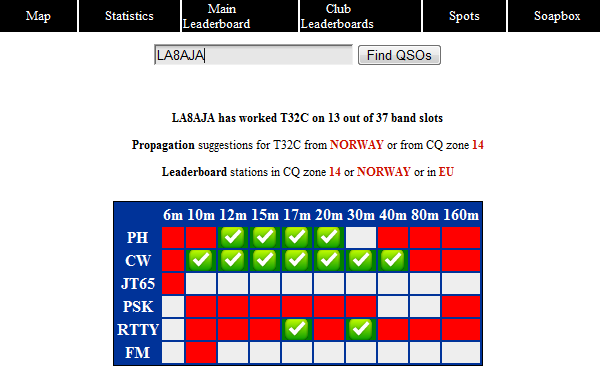 The conditions are really good for the time being, and I have worked a few contacts lately.
I worked OA4/DJ2VO on 30M on October 11th.
On the 14th I worked T32C on 15M CW.
On the 15th I got HC2/KF6ZWD and HR2DMR on 12M CW. HR2 was a new one on 12M. T32C was worked on 12M SSB and 17M CW. I tuned around 10M and found OA1F with a nice signal and worked him quickly. Further up in the band, HC6EP was calling and I gave him a call. It turned out that he was on LoTW and when I uploaded the log a few days later, I got #295 on LoTW.
October 18th gave me 3 new T32C slots with 17M RTTY, 20M SSB and 20M CW.
Early morning October 19th, I worked VE7SV with a nice and strong signal on 30M CW. He had a pile-up from Europe, but was easily worked. T32C was worked on 10M CW.
E51NOU was worked on 12M CW October 20th. I tried calling him the day before, but I couldn't break the pile-up. 3XY1D was worked on 30M CW.
On October 21st I worked T32C on 30M RTTY and 17M SSB. 4O3A was worked on 12M cw for a new one on 12M.
I now have 13 slots with T32C. Way more than expected. They have been there so long that the pile-up's are small and pretty easy to crack.
---
Comments: No comment yet, you could be the first