VK9DWX QSO and soundclips
---
Posted:
October 15th, 2008 under
DX
,
Dxpedition
,
Hamradio
,
LoTW
,
Soundclips
.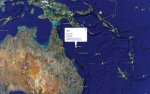 I finally managed to work VK9DWX Willis Island yesterday. They had a great signal on 40M, and I managed to make recordings of my own QSO and a few minutes of totally chaos on the frequency. Listen to the three soundclips below. In case you haven't been following DX-bulletins, Willis Island is activated by a big team during October 2008. More details on the homepage.
9L1X was worked on 30M on Sunday for a new band country. I did have a go at 40M, but couldn't break the pile-up. Guess many people need 9L.
Here are the soundclips I recorded from VK9DWX on 40M October 14th 2008:
LoTW brought more confirmations. NH7O 40M CW, thanks Al. P49X and HC8N on 40M RTTY, thanks.
---
Comments: No comment yet, you could be the first