LB1GB – Bjorn
---
Posted:
October 18th, 2008 under
Hamradio
,
Link
.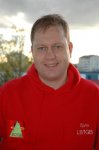 Here is a short presentation of Bjorn LB1GB. He started his ham career at the age of 14. One of his big interests is contesting, and he is one of the founders and operators of LA8W. Bjorn has lately put down much work with the Norwegian SOTA program. The Norwegian program was launched May 1st 2008 and it can be found at http://sota.no. Bjorn is the "Association Manager Norge" for the Norwegian part of SOTA. SOTA is short for Summits On The Air. A program I had never heard about until Bjorn started talking about it.
As he commented in my guestbook, he got inspired to update his own homepage after I did a very much needed update myself. Check out his page here: http://www.radiosporting.net/lb1gb/. Bjorn is also the webmaster for several other hamradio related sites: http://la8w.com, http://contesting.no, http://sota.no and http://wrtc.info/.
---
Comments: No comment yet, you could be the first