3Y0X – Dxpedition video
---
Posted:
October 27th, 2008 under
DX
,
Dxpedition
,
Hamradio
,
Movie
.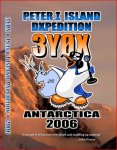 To follow up on my earlier post about dxpedition videos, here is another one. This time it's the video from Peter 1 Island. The expedition was back in 2006, so not really hot news, but I'm trying to list all expedition videos I know about.
The DVD tells the whole 3YØX story, from beginning to end. Some are calling this the "DXpedition of the Decade"; don't miss it in exciting, living color! Order now for US $25.00. Note: The DVD is multi-region encoded. This means 100% compatibility worldwide; any DVD player, anywhere, can play the 3YØX DVD. The order can be made with PayPal, cash, check or moneyorder. Get it here: 3Y0X Dxpedition Video.
My earlier post about dxpedition vidoes.
---
Comments: No comment yet, you could be the first