Google Earth for iPhone and iPod Touch
---
Posted:
October 28th, 2008 under
Software
.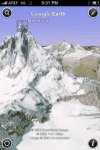 An exciting new application was released for the iPhone and the iPod Touch Sunday October 26. It's Google Earth. If you haven't given Google Earth a try, you're missing out on a great program. In few words, Google Earth is a virtual globe program with very detailed views of the earth. The images are obtained from from satellite imagery, aerial photography and GIS 3D globe. Now Google Earth got even more accessible. I am looking forward to give this a try. Get it via the appstore now, it's free!
Quote from http://googlemobile.blogspot.com/:
The world just got a little bit smaller. Google Earth is now available for the iPhone and iPod touch, allowing you to fly to the far reaches of the world from the palm of your hand. Since we launched Google Earth for the desktop in 2005, we've had over 400 million unique downloads, and people from around the world have used it to view their house, research travel destinations, learn how to make the world a better place, find local businesses, and view geo-located photos. Now, with a free download from the iTunes App Store, you can fly through the same 3D immersive world of Google Earth you've come to love, without having to fire up your desktop computer.
Here is a demonstration of the application:
---
Comments: No comment yet, you could be the first