XV4BM and A5100A in the log on 40M
---
Posted:
November 13th, 2008 under
DX
,
Hamradio
.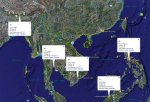 You know, it's kinda strange with countries you need. Like V8 that I worked years ago on 15M SSB. A few weeks ago I finally logged my second V8 with V85SS. He gave me a new one on CW and 40M. On Monday, V85TT was cq'ing with a nice signal on 40M. He had almost no pile-up, and for a long time he CQ'ed a lot with no replies. I gave him a call and quickly got him in the log. Suddenly I now have 3 V8 stations in the log. I also worked HS0ZBS on 40M, not a new one, but a second band. I worked Kurt on 30M not long ago.
On Tuesday XV4BM showed up again on 40M with a nice signal. The frequency was pretty chaotic with the pile from A5100A partially covering XV4BM. I finally got through to XV4BM and he got my call correct. I checked the soundclip afterwards, and it's good. That was #213 on 40M. I had a go on A5100A and got through, I think, but never got the confirmation. Too many stations on top. I tried again and got through, this time it was confirmed and another new on 40M (#214).
Soundclips:
---
Comments: No comment yet, you could be the first