VK9LA, YJ0TXF, TY5ZR and T2UF in the log
---
Posted:
March 29th, 2009 under
DX
,
Hamradio
,
Soundclips
.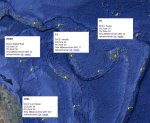 On Monday I got 4K0CW on 30M, my 4th band. Thanks Axel. On Wednesday I finally managed to work VK9LA on 40M CW (#302 CW, #233 40M). I did try on Monday, but he went qrt before I could break the pile-up. On Saturday I was up early to check the bands. That resulted in VK9LA on 30M CW (#244 30M). A few hours later, T2UF (LA5UF) was peaking on 20M and was easily worked (#270 20M, #303 CW). Thanks Jørgen. A few minutes later, Nigel, G3TXF was on 30M CW. After spending a few minutes in the pile-up, I managed to get through and work him as YJ0TXF (#244 30M, #304 CW). That's my third new one on CW this week. I also worked BW9/DL2JRM/P in IOTA AS103 on 40M CW. Saturday afternoon gave me TY5ZR on 30M CW (#245 30M).
Soundclips:
VK9LA online logsearch can be found here.
---
Comments: No comment yet, you could be the first