New IRC will be launched July 1st 2009
---
Posted:
May 7th, 2009 under
Hamradio
.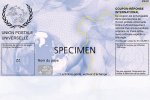 Be sure to exchange any IRC you have lying around before the end of this year. A new IRC will be launched on July 1st 2009. See the picture to see the new one. The new one is called the Nairobi model. The old one is called the Beijing 2 model and expires December 31st 2009. You don't know what an IRC is you say, no worry, just read the facts below. An IRC is used to cover return postage when doing direct QSL'ing.
An international reply coupon (IRC) is a coupon that can be exchanged for one or more postage stamps representing the minimum postage for an unregistered priority airmail letter of up to twenty grams sent to another Universal Postal Union (UPU) member country. IRCs are accepted by all UPU member countries.

UPU member postal services are obliged to exchange an IRC for postage, but are not obliged to sell them.

The purpose of the IRC is to be able to send someone in another country a letter, along with the cost of postage for them to reply. If the addressee is within the same country, there is no need for an IRC because a self-addressed stamped envelope (SASE) will suffice; but if the addressee is in another country an IRC removes the necessity of acquiring foreign postage or sending appropriate currency.

Source wikipedia.
---
Comments: No comment yet, you could be the first