The magic band strikes again – #114 and #115 on 6M
---
Posted:
June 21st, 2009 under
DX
,
Hamradio
,
Soundclips
.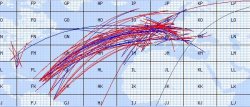 The last few days has been kinda hectic on 6M, at least with openings inside Europe. On Wednesday June 17th, the band was open when I got home in the evening. I noticed big parts of Europe working North America most of the day. I checked the band west, but no signals. When I turned to southeast, I had plenty of signals. SV2DCD was calling CQ DX from KN00. That would have been a new grid but I respected his CQ DX call. I then decided to call CQ, but nothing new answered me. After listening around the band, I found a few new grids. IZ8FWN JM88, IW7DKS JN90, IT9ABN JM77 and IS0GQX JM49. The skip distance to those parts are very difficult. They are usually between 1 and 2 hops of ES. I have no clue what made them appear now, but they are in the log. IS0GQX was the second IS0 station worked here, with only IS0SWW in the log several times before.
On Thursday I got alerted by LA8HGA. He was hearing 8R1DB. When I came home 20 minutes later, I could not hear 8R. LA7HJA also told me he heard the station, but only in bursts. I heard some EU signals, but didn't bother calling anything. In the evening, TN5SN was on JT6M. I had a check, and I heard him with a signal that would have been easily worked. Unfortunately he went to SSB and I could only hear some audible but not readable signals after that.
On Saturday, the band opened early. Many EU stations on band, but nothing new. I was out during the day and when I got home, some signals were present, but again nothing interesting. I parked the radio on 50103, hoping 8R1DB would show up since he was spotted down in EU. Then while eating, I suddenly heard signals. I ran and checked, and there he was. After a few minutes in the pile-up I got him. That was #114 on 6M, and LA7HJA got him a few minutes later. I tuned the band for more dx and I heard 9Y4VU with a great signal. He was easily worked, not new, but a nice dx anyhow. I went back to eating, when LA7HJA called me and told me he heard FJ5DX. I checked the band, but I couldn't hear him. One station I did hear, was WP2B, but could not get through. He just faded away. While tuning up and down, I suddenly heard PJ7/K2GLS. He was weak, but he came back to my call. That was #115 on 6M and maybe an LA-PJ7 first on 6M. NP4A was heard, but I have worked him before, so I didn't bother to call. Several stations from CT3, EA8, CT and EA was heard too, but I were only on the lookout for new grids. The new grids I managed to work were EA5CLH JM08, F9IE IN86 and EA2BC/P IN82. The band was open at least til 23z when I went to bed wondering what the rest of the season will bring.
Soundclips:
---
Comments: No comment yet, you could be the first