The magic band strikes yet again – #116 and #117 on 6M
---
Posted:
June 23rd, 2009 under
DX
,
Hamradio
,
Soundclips
.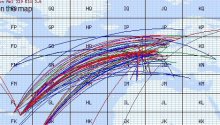 The fun wasn't over yet. The band was open in the morning on Sunday with one of the strongest in-band videobuzz I've ever heard. I started hunting for new things to work and found EA4ZK in IN80. I also tried with UW3E on CW, but faded before I got confirmation that everything was received ok. The next one was EA1MR in IN70, followed by EA1AHO in IN52. I've never heard so many stations from EA before. The band was also very crowded with plenty of stations to work. Japan started appearing in Europe, but the path never opened to my qth. A few hours later, HI3TEJ appeared, but just too weak to work on SSB. We tried CW, but we lost conditions. I have been hunting HI for several years, but always seem to miss this one. KP4EIT was worked easily though. UW3E in KN78 finally appeared again, this time on SSB. I got him after a few minutes. I heard ZB2EO today again, but didn't bother to call. Some things are really strange. From never having worked ZB until last year, I worked it again this year, and heard it in another opening.
With mostly EU on the band and nothing new, I took a break. Then around 18z, things started happening again. I suddenly started hearing Ted HI3TEJ, and finally got him in the log on SSB. That was #116 on 6M. Just a few minutes later, WP2B was calling on .110 and he was easily worked for #117 on 6M. I also worked Pedro NP4A for fun, since he had such a nice signal. Pedro is running a 13 element yagi on a 20M boom. No wonder he was strong here. WP3UX appeared on SSB, so I gave Willem a call. Conditions were a bit up and down, but seemed to be holding up. I started hearing 8R1DB again with a solid signal, and he were in for hours this time as well. Stations further north seemed to get in on the fun. LA7DFA in JP33 worked both 8R1DB and NP4A. I also noticed OH and SM working into the Caribbean too. HI3TEJ were still holding up over and hour later, and this time he was on CW, so I gave him a call. Yet another strange thing regarding HI. As I mentioned, I've been on the lookout for HI for several years, when I finally get it in the log, the opening lasts for hours.
This surely must be one of the best weekends on 6M ever. Having the band crowded with europeans and also having the opportunity to work some DX is great fun. LA7HJA said that this weekend was like getting his licence all over again. Obviously our new yagies does pay off. I feel it's like night and day compared to the old one. The signals are stronger and I'm working stuff I've never worked before. I think conditions might be better this year, but then again, I might owe it to the 7 element up in the air. With 6 new ones so far, it brings my 6M total to #117 and #547 grids.
Soundclips:
---
Comments: No comment yet, you could be the first