GcmWin 3.1.0 is out
---
Posted:
December 27th, 2009 under
Hamradio
,
Software
.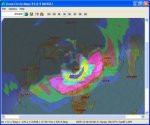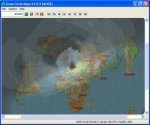 Exciting stuff is happening with this program. I haven't used it in a while, but just a few days ago I checked up on what was going with the program development. For those of you who haven't heard about this program, it's a free Windows program for plotting great circle maps from your location, locator maps, grayline and realtime propagation maps. Read the changelog below:
New version 3.1.0 – 26 December 2009
Bugfixes
Real time for propagation now works
Time got its own tab now. Sets time for both grayline and voacap.
New version 3.0.9 – 5 December 2009
Vocap now works in the western and southern hemisphere.
Icearea and Voaarea implemented
You can set transmitter power and gain in the receive and transmit antennas
You can plot color or b/w for the propagation layer
In the toolbar you can change band for the propagation layer.
The picture you see – is the picture that is saved. (changed from previous version)
The "real" time display for the propagation is not redrawing itself. You have to manually click on create map or change band!
Since the propagation is made on an hourly basis – 9:30 plotted as 09:00 hours and 09:31 plotted as 10:00…
The propagation forecast can only be made every hour (limitation of voacap)
If you have used version 3.0.8, please change directory for voacap to "c:\itshfbc" NOT "c:\itshfbc\areadata"
Changes from 3.0.7 to 3.0.8 – 15 November 2009
Some bugfixes from 3.0.7
Interacts with Voacap (get Voacap here: http://www.voacap.com/ ) This part is buggy and not fully functional, but you are welcome to try it out!
More precise sun position (formulas from here: http://stjarnhimlen.se/comp/ppcomp.html#5 )
Changes from 3.0.6 to 3.0.7…
A greyline function is implemented. Choose between realtime map that updates every minute and a one shot map.
Prefix format has changed. Look at the PrefixNew.dat (Thanks to SM5FQQ, Jan who supplied the updated file!)

The line thickness for the compass can be changed!
Changes from 3.0.5 to 3.0.6…
Now you can plot two different locator files with different colour, hatching and transparency (one for worked and one for confirmed squares..)

Plotting now accepts 4 character locators (JP83 or JP83PE are plotted the same way)
Other features..
Borders, coastlines, rivers, lakes can be added
Text and lines can be partly transparent and in the colour of your choice.
Freeware
Download the program here.
---
Comments: No comment yet, you could be the first