#290 on LoTW with 8R1K
---
Posted:
July 22nd, 2011 under
DX
,
Dxpedition
,
Hamradio
,
LoTW
.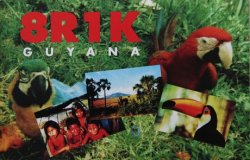 This was yet another one I didn't expect that got uploaded today. The qsoes with 8R1K was worked back in 1997 and I do have a paperqsl for those qsoes. I see I have only 5 qsoes with 8R total, so it's even more fun to get it confirmed via LoTW. That brings my LoTW total to #290, only 10 more to go for 300 LoTW only!
No radio worked here since my last post. I'm hoping that will change for my next post. If you haven't read the latest DXCC news, South-Sudan has been added to the DXCC list as entity 341 and it's valid from July 14th 2011. Read more about it over at DX-World. As it happens, an expedition started up from there today with the callsign ST0R. I've been listening to them on 30M and making a few calls, but the pile-ups are quite big. I think I'll just wait this one out a few days. The expedition page for ST0R can be found here. Happy hunting!
---
Comments: No comment yet, you could be the first