Square #700 worked on 6M
---
Posted:
July 22nd, 2012 under
6M
,
Hamradio
.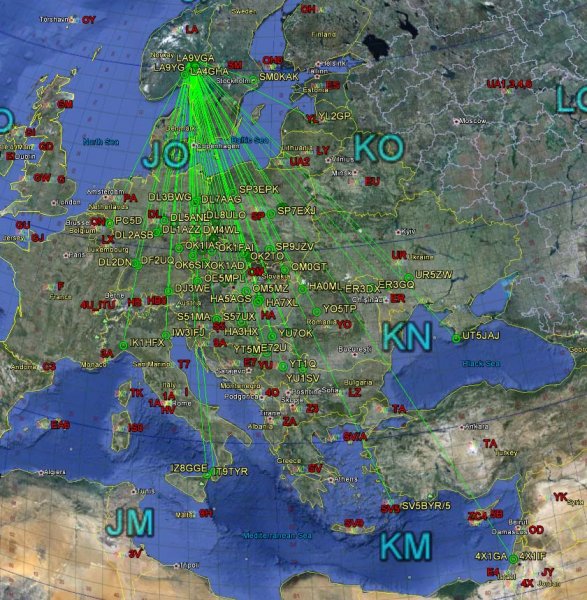 July 1st I worked 1A0C on 6M CW and SSB. It was easy once the skip finally changed so that I could hear them good. 5C13KD was worked on CW.
The band was pretty much dead until July 4th. I started calling a bit myself and UR5LMB answered my call. It turned out he is in KN89. KN89 was a new grid for me and grid #700 on 6M. I also worked YU, LY and OE in that opening.
On July 8th, I only worked SW8Y and LZ2DF.
The band was more or less quiet for a few more days until July 11th. In that opening I worked 9A, HA, YU, LZ, OM and OE.
6M NAC was on July 12th. I was hearing several SM and LA stations on tropo. I worked SA3A in JP62. The band suddenly opened with short-skip so I worked several OH, ES, GM and YL stations.
On Friday the 13th of July, we had another minor opening. I worked UR, UA, IT9, LZ and Z3 stations.
6M opened again on Saturday July 14th. I worked over 60 qsoes in that opening. Take a look at the picture for info about that opening. I also added a DXAtlas map with the worked grids plotted.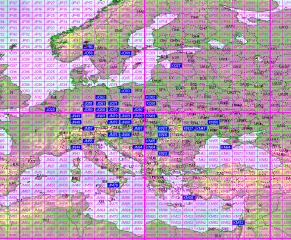 ---
Comments: No comment yet, you could be the first