PT0S new on CW and a small CQWW CW report
---
Posted:
November 29th, 2012 under
Contesting
,
DX
,
Hamradio
.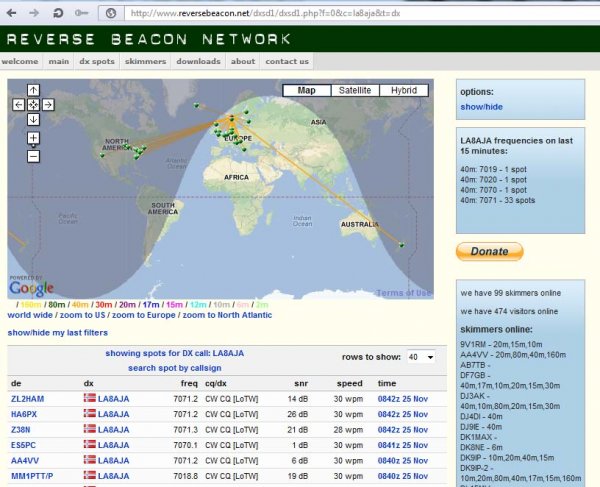 I only have a small update to write about this time. I worked PT0S on 30M CW on November 15th and 40M CW on November 17th. That was a new one on CW since I've only worked St. Peter and Paul Rocks on 10M RTTY before. I didn't bother to work them anywhere else.
Last weekend was the biggest contest of the year. I didn't have any big plans to work much, but as I started listening on 40M CW Saturday morning, I thought, why not? I ended up working a bit over 400 QSO'es, all on 40M. At the same time, I was watching the ReverseBeaconNetwork to see the propagation and where I was heard. I've attached a picture for you to see. I find it interesting to see the Skimmer spots come in in realtime. I worked 75 countries and 24 zones. EL2A was worked for a new one on 40M.
---
Comments: No comment yet, you could be the first