#307 on LoTW with TT8TT and 4 slots with ZL9HR
---
Posted:
December 9th, 2012 under
DX
,
Hamradio
,
LoTW
,
Soundclips
.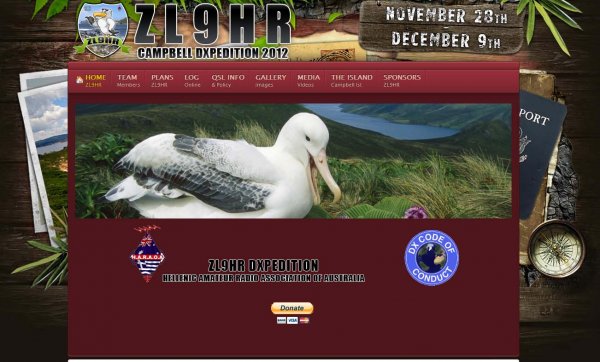 LoTW updates has been slow, but I did get TT8TT confirmed a week or so ago on LoTW. That was yet another new one on LoTW and brings the total up to #307. I worked the expedition back in October.
Yesterday was the first time I worked anything since CQWW CW. I was hoping to get ZL9HR in the log, but I was away last weekend and at work through the week. I have heard them on 40M during evenings, but I have had too much qrm to hear them good enough to be workable.
I was scanning the band and spots for ZL9HR Saturday morning, but I couldn't hear them. They were too high up in the bands. At around 0900z they came on 40M CW. A few minutes ago, I'm pretty sure they came back to me, but I could never get a confirmation because of all the idiots making qrm on the ZL9 frequency. Luckily, at 0914z I got them for sure. ZL9 wasn't a new one, but it was a new band for me, so I was quite pleased to get them in the log.
The strange thing is, when you first log one station, the second qso often comes quite easy. Though, I didn't really expect it to be this easy. I checked them on 15M an hour or so later. They had a nice signal, so I tuned up and set to call. Hmm, nothing was happening, and ZL9 not transmitting for a while, so I parked on 0,88KHz up and gave 1 call. That was all that was needed. He came right back to me.
That was not the end of it however, I managed to get them on 17M SSB and 20M CW a few hours laters. 17M SSB was the one I had the most struggle with, but I didn't really spend much time in the pile-up's at all with this one. Thanks for the expedition!
While hunting for ZL9, I worked 5T0SP on a few slots too. They were also very easy to work. 30M/17M/12M CW were all worked on Saturday, and 40M SSB was worked on Sunday morning. A few hours later I got 5T0SP on 12M RTTY
Soundclips:
---
Comments: No comment yet, you could be the first