#154 and #155 on 6M with Z68M and 3A/EA6SX in the log
---
Posted:
August 3rd, 2018 under
6M
,
DX
,
Hamradio
.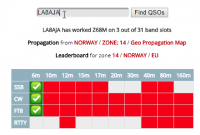 Z68M logsearch on Club LogAfter working two new ones on 6M, I didn't really have my hopes very high for this season. New countries are difficult to come by, but suddenly they show up. So here is another dx report from me.
On July 3rd, I managed to get KH1/KH7Z on 20M CW. I didn't really think I would work them, as the time of year makes this one difficult. Combine this with full time work and small kids, and the difficulty increases a lot. I did hear them on Sunday morning on 20M CW, but I could not break the pile-up. I didn't copy them on FT8 either. But when I checked 20M CW after the kids went to bed, they had a readable signal. After a few tries, I managed to work them. This just shows that having a station on 20M at all times, does pay off. KH1 was a new one on 20M CW for me.
On July 6th, I got a text from LA4GHA alerting me of Z6 and 3A on 6M. As I had to pick up the kids and get them home, I rushed to get on the air. Z68M was strong on 6M CW, and after a few calls, he came back. That was #154 on 6M. I changed to FT8 and started listening for 3A. I could see him, and started calling. He came right back to me, and after a few periods, I got the 73. 3A/EA6SX was #155 in the log on 6M. I've been hunting 3A for many years, but I have had no success on getting one in the log. I've heard them, and almost made a qso, but this was the first time I finally logged Monaco on 6M.
On July 11th, I worked OX3LX on 6M FT8. I've been listening for Bo for several days without success. Usually the conditions appeared after I went to bed. While sitting in front of my PC, Bo suddenly came in here on FT8. I quickly worked him for a new field (HQ) and grid (HQ90). I also worked TF1A on 6M FT8.
On July 11th, I worked Z68M on FT8 and SSB on 6M. Z66X was also worked on 6M FT8.
---
Comments: No comment yet, you could be the first