K0VXU State #47 on LoTW and last CW state
---
Posted:
August 31st, 2010 under
DX
,
Hamradio
,
LoTW
,
RTTY
.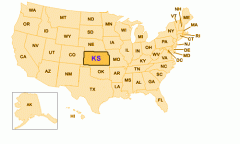 The past weekend I noticed that Kansas QSO Party was on. Since Kansas was my last state on CW, and one of the missing ones on LoTW, I watched the cluster closely. I noticed several stations spotted, but I just couldn't hear anyone of them. Finally a spot on 20M CW with K0VXU who was calling CQ KSQP. I managed to work him for my last CW state. Today I noticed he had uploaded his log on LoTW, so only 3 LoTW states to go with Idaho, North Dakota and Wyoming.
SCC RTTY Contest was also this weekend. I decided to set up N1MMLogger and have a go at a few contacts. I still needed a few for RTTY LoTW DXCC. The exchange in this one was RST and the year when you first got your licence. I got off to a pretty good run until I station gave me 1982 as a report. N1MM didn't like this at all and would not log it. I ended up logging another year, then edited the qso manually. I didn't connect it at all until my second 1982 station. I was now prepared, so I managed to log that one as well. Then I suddenly got strange crashes, and I got another bug. If I tried to log a dupe or log a station on a second band, N1MM crashed. Luckily, a fix was quickly sent out on the reflector, and it worked out ok. I worked about 200 qsoes in this one. Nothing new, except state 37 with Alabama.
On LoTW I got #100 on RTTY with GW confirmed.
---
Comments: No comment yet, you could be the first