Big 6M aurora opening and 2 new grids worked
---
Posted:
June 1st, 2011 under
6M
,
Hamradio
.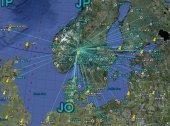 The K-index seemed to be high both on Friday and also Saturday morning. I didn't really bother to check the hf-bands though. I went to 6M and the usual 49750 tv-transmitter was strong, indicating quite a good aurora. I did however not expect it to be this good. I scanned the band and found a few beacons and a few stations on. I didn't hear anything special going, so I found a frequency and started calling. That was the start of a 2 hour run. I worked nearly 70 qsoes ranging from ES in the east, GM to the west, SM2 to the north and PA and DL to the south. If you look at the picture, the opening was quite widespread and I worked plenty of new stations that I hadn't worked before. I even managed two new gridsquares.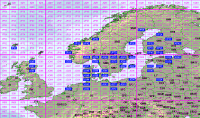 That was not something I expected. OY1R Regin called me from IP61 with a nice and strong signal. YL3IQ called in from KO17 giving me my second new gridsquare.
I have now worked 656 gridsquares on 6M and I think I've worked 8 new gridsquares this year.
---
Comments: No comment yet, you could be the first