#130 on 6M with A45XR
---
Posted:
June 6th, 2011 under
6M
,
DX
,
Hamradio
,
Soundclips
.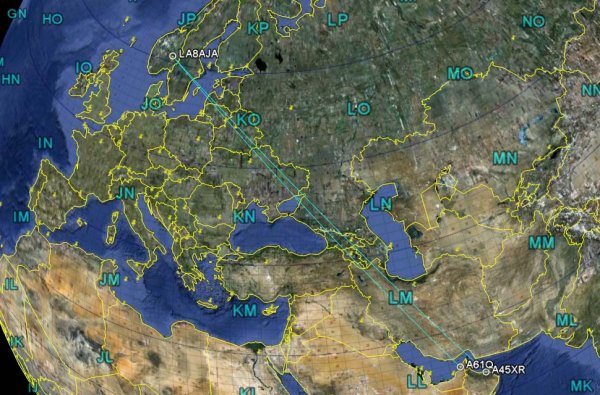 After the big aurora on May 28th, the band suddenly opened to the south-east with sporadic-e. I worked UR, ER, OM, YO and 3 x 4Z stations. Suddenly the band shifted a bit more to the south and south-west. I finished with a CT station. I didn't bother to work too many stations in that opening.
May 31st, the band opened again, but I only bothered working the stations. One of the stations were 5B4AIF on 6M SSB. He was very strong and I heard him for several hours. The second was 4Z5LY on 6M SSB. The third stations was TA2AD in KN51. That was a new gridsquare for me.
I didn't work anything else until Thursday June 2nd. I noticed A45XR being spotted down in Europe and also in OZ. I turned the yagi around and tuned in. I could hear him on 50110 CW. I gave him a call and he quickly got back to me for #130 on 6M and gridsquare #658. I noticed A61Q was spotted further down the band. To my surprise, I started hearing him too. However, I could not get his attention at all. He worked few stations with lots of CQ's. Turned out, this wasn't the time to log A6. I heard him for 40-45 minutes. During this opening, I did also copy several EP and YK TV transmitters.
Soundclips:
---
Comments: No comment yet, you could be the first