Big North-American 6M opening July 20th
---
Posted:
July 28th, 2012 under
6M
,
Hamradio
.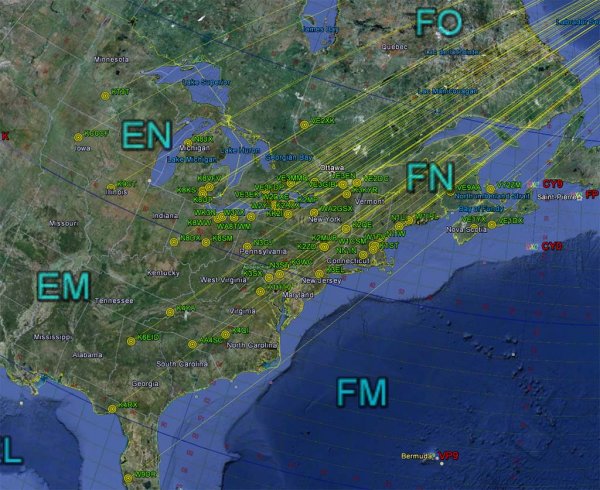 I must say that for me, this was the opening of the season. I didn't get any of the west-coast stuff that others in Europe was working and I missed the nighttime opening in June too.
In the evening on July 19th, I was listening for North-America. I heard one CQ from K1TOL in a burst. A few minutes later, I heard N3DB out of the noise. I quickly worked him and started calling myself. That resulted in 5 more qsoes with USA. 2 of them were new stations. The opening lasted around 10 minutes or so and was right around midnight local time.
Friday July 20th, I came home right around midnight local time. I noticed spotlines on ON4KST-chat passing my head. I quickly turned on the gear and started listening. I didn't hear much, but K8WW was in here very weak. I called him a few times, but couldn't get his attention. I started calling myself and VE2XK was the first one in the log. What followed was one of the best opening to North-America I have had. I worked 3 new states with KC0CF in IOWA, KT9T in MINNESOTA and K8UT in MICHIGAN. I was parked on the same frequency all night and worked station after station. Some of the stations were very weak and had severe qsb on them. I'm sure there were several stations I just could not get through.
I worked a total of 58 qsoes in this opening. If you look at the picture, it was quite a spread from Florida in the south, Prince Edward Island in the North to Iowa and Minnesota in the west. The longest qso was with W9DR in EL86 at 7566km.
I've plotted them in a map in Google Earth for you to see. Just click the picture above. All stations are not shown, but I've tried my best to make them visible. I also made a quick map in DXAtlas too.
Stations were worked in CT, FL, GA, IA, IL, MA, MD, ME, MI, MN, NC, NH, NJ, NY, OH, PA, SC, TN and VA. That makes 19 different states and 41 gridsquares in one opening! I sure wish I could have more openings like this on 6M.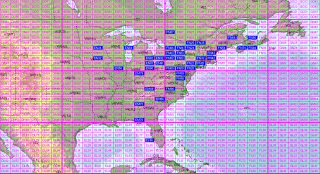 ---
Comments: No comment yet, you could be the first