Even more new iota's worked in Indonesia
---
Posted:
May 25th, 2015 under
Hamradio
,
Iota
.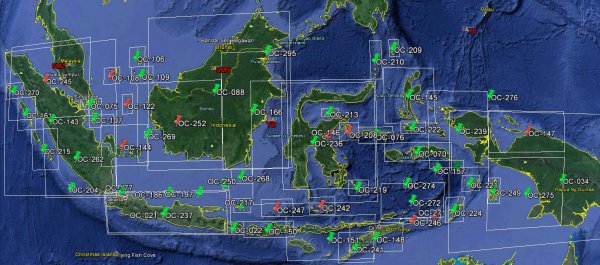 It seems like Indonesia never runs out of islands to work. When I look at the list on the iota website, Indonesia has 59 different iota's. Over the past few years, I have worked plenty of them, but I always seem to be alerted about iota's I haven't worked from there. I checked while writing this post, and I have 39 of them worked. Since my last dx-report, I've gotten a few more island in the log.
On April 19th, I worked TM9B on 20M CW from EU-048. They were wrongly spotted in an iota I needed, but after doing a little more digging, the spot was wrong.
On April 21st, I worked YB4IR/8 on 30M CW from OC-249. Imam gave me yet another new iota. I don't know how many new islands I've worked him from, but I'll check it out at the bottom of this post.
On April 22nd, I worked YB8RW/p on 20M CW from OC-273. I duped this qso too. He was so weak when I worked him, the doubt got the better of me. It's better to be safe than sorry. This was a new iota for me.
On April 23rd, I worked YB3MM/9 on 20M CW from OC-241 for my third new iota in Indonesia in just three days.
On April 24th, I worked 9M2/R6AF/p on 20M CW from AS-073.
On April 29th, I worked YB4IR/8 on 20M CW from OC-274 for a new iota.
On May 2nd, I worked JA6TBE/6 on 17M CW from AS-037 for a new iota. His signal had quite a lot of qsb, and once again the doubt got me. After the second qso I was 100% sure about the qso.
On May 16th, I worked YB5M on 20 SSB from OC-262 for a new iota. YF1AR/2 was worked on 15M SSB from OC-186 for a new iota.
On May 21st, I worked YB4IR/7 on 20M CW from OC-268 for a new iota.
That was 6 new iota's in just a few days from Indonesia. I even missed a few when YB8RW activated a few of those I still need.
I have worked YB4IR from 14 different iota's now. Most of them have been new for me. YB8RW has been worked from 5 different iota's. YF1AR has been worked from 6 different iota's. A BIG thanks for doing what you guys are doing. It's just amazing, hat's off to you guys!
---
Comments: No comment yet, you could be the first